BCT becomes Official Bank Sponsor of Jump Start Jefferson
February 3, 2023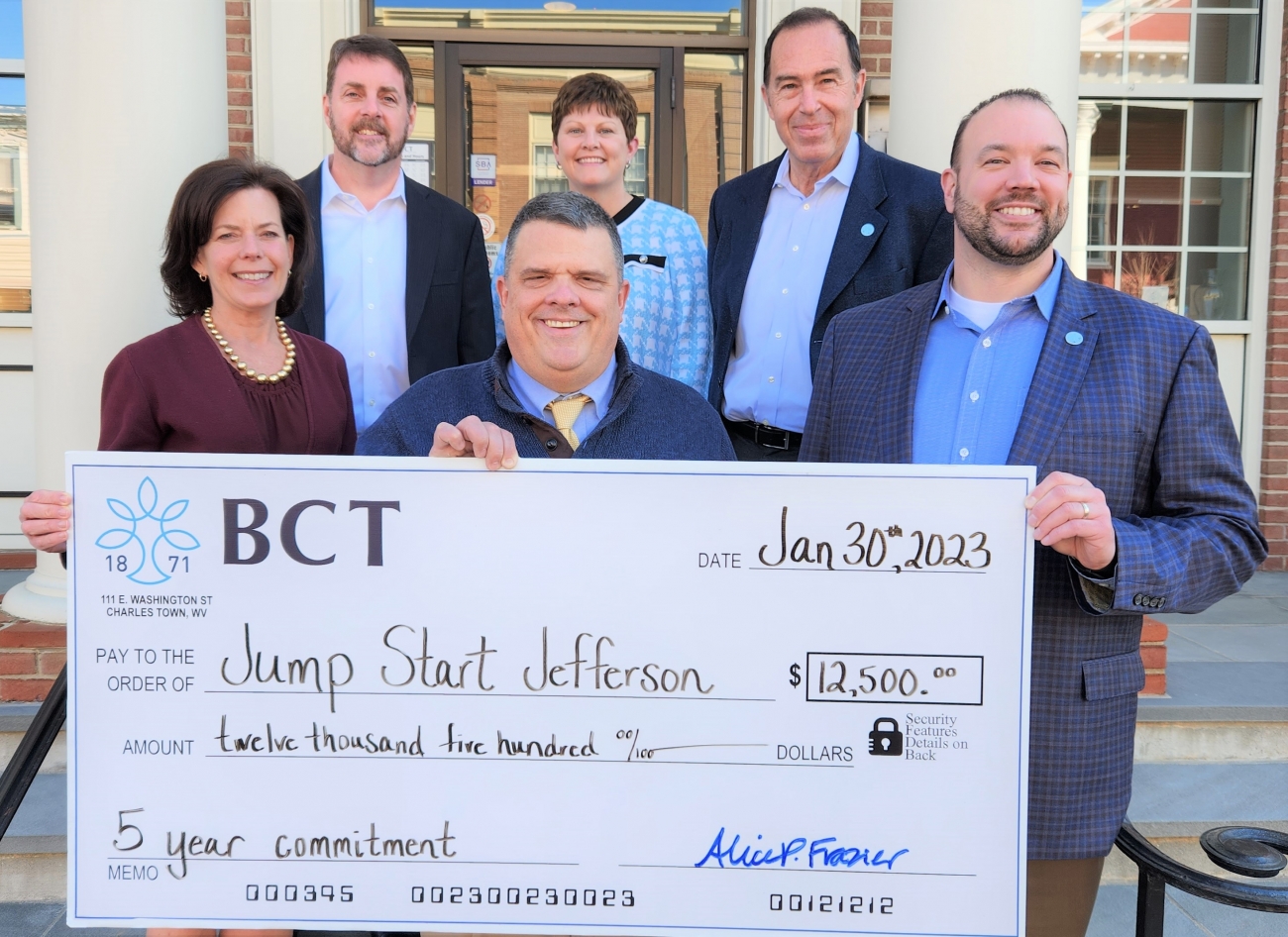 FOR IMMEDIATE RELEASE:
February 3, 2023
CONTACT:
Dennis Jarvis II, Executive Director
Jefferson County Development Authority
304.728.3255
BCT becomes Official Bank Sponsor of Jump Start Jefferson
Kearneysville, W.Va.—The Jefferson County Development Authority (JCDA) is pleased to announce Bank of Charles Town (BCT) as the official bank sponsor for the Jump Start Jefferson business pitch competition.
Jump Start Jefferson aims to promote entrepreneurial growth in Jefferson County by providing participants with the educational resources needed to achieve business success. Under the guidance of subject matter experts, participants will have the opportunity to further develop their existing entrepreneurial development initiatives in a class room setting. After submitting the completed business plan, participants will pitch their business plan to a panel of judges comprised of area business leaders and professionals for the chance to win a grant of $5,000 along with various contributions from Jump Start Jefferson sponsors.
Dennis Jarvis II, Executive Director of the JCDA, shares "One of the missions of the JCDA is to attract and retain business within Jefferson County. Partnering with a local business who understands the need for small business assistance is truly an honor. It is community teamwork and collaboration such as this that allows programs like Jump Start Jefferson to blossom."
BCT, for over 151 years, has been operating under a simple philosophy: Neighbor Helping Neighbor. To further help their neighbors and grow their communities, BCT is excited to be named the official bank sponsor for Jump Start Jefferson. As the official bank sponsor, BCT has made a five-year commitment of $12,500 providing $2,500 annually to the Jump Start Jefferson program—enabling the initiative to secure half of the award allocation annually.
"We are excited to partner with Jump Start Jefferson," states Aaron Howell, Senior Vice President and Community Banking Executive. "BCT started as a small business in 1871 and we have a unique understanding of the many hurdles facing small businesses, especially securing the appropriate capital needed for small businesses to succeed. This program is another way we can provide support to local small businesses to help them prosper."
###
ABOUT BCT
In 1871, a group comprised of 38 far-sighted Jefferson County, West Virginia farmers, orchardists, and business leaders saw the need for a bank to serve as a stabilizing influence within the county. Thus, Bank of Charles Town was formed. Then and now, the principle is simple—neighbor helping neighbor. The communities BCT serves are the communities it calls home.
BCT strives to provide high quality, profitable community banking and related financial services to clients by focusing on exceeding client service expectations, providing competitive and fair employment opportunities, participating actively in the communities that it serves, maintaining the highest business standards, and employing capital with the objective of maximizing shareholder returns through earnings and dividend payment.
ABOUT JCDA
To understand the work of the Jefferson County Development Authority, it's easiest to envision a circle—a virtuous circle, in which the right kind of business growth and success leads to more resources invested in the community, which leads to better schools and amenities and a higher standard of living for residents, which in turn helps attract the kind of business that will continue to enhance our community.
At the center of this circle is the JCDA. Our mission is to attract and retain business and industry in order to facilitate job creation and capital investment. To achieve those goals and to support growth, we provide assistance that includes, but is by no means limited to: the development of sites and available building stock; the strengthening and alignment of the workforce talent pipeline; the identification and procurement of funding resources; and the provision of any other services as needed to help businesses thrive here in Jefferson County.
In our business attraction and retention efforts we make business and industry feel welcome here and feel at home—and when those businesses flourish here, our standard of living raises and makes Jefferson County a better home for all residents.