JCDA's April Business Spotlight - Small Business Support
April 29, 2022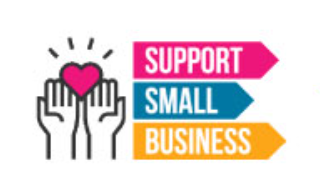 Welcome to the JCDA's April business spotlight. Small businesses have contributed significantly to the U.S. economy by generating wealth and creating employment. Did you know that nationally, small businesses have reported creating 1.5 million jobs every year? This month our focus is the celebration of Jefferson County's entrepreneurs and small business owners and increasing awareness of programs the JCDA offers to our business community.
Let's start with National Small Business Week. For over 50 years, the Small Business Administration (SBA) has celebrated National Small Business Week, which recognizes the contributions of America's entrepreneurs and small business owners. To celebrate the event, the JCDA is hosting a free reception Tuesday, May 3, at the Barn in Harpers Ferry. We are celebrating the tenacity and forward-thinking of the small business owners of Jefferson County who are doing their part to sustain and grow our county's economy and drive our nation's economic comeback.
We want our businesses to be educated and offer several programs for Jefferson County and regional communities.
The Jefferson Innovators series is a regular speaker series offered by the JCDA. Topics encompass a wide variety of opportunities and information for businesses of all sizes. Previous topics include Workforce West Virginia awareness and programming, social media marketing in agriculture, and common issues involving land ownership. Additional topics are in the works, including government contracting assistance, outdoor recreation opportunities, and tax incentives for new businesses such as Opportunity Zones and New Market Tax Credits. Sessions are generally free; and sessions alternate between in person and online, with some hybrid options available. Sessions are open to anyone, and topic suggestions are always welcome!
The Eastern Panhandle Entrepreneurs Forum (EPEF) is a regional effort between Jefferson, Berkeley, and Morgan County EDA's and the Region 9 Planning and Development Council. The EPEF connects entrepreneurs with each other and with expanded opportunities through regular meetings in rotating venues. This year's dates for the EPEF are: May 5, hosted by Berkeley County, August 4, hosted by Jefferson County, and November 3, hosted by Morgan County. The featured speaker for each session is Tiffany Hine, Director, Small Business Education and Training Blue Ridge Community and Technical College. We are excited to offer entrepreneurs assistance with their business plan. Even more exciting is the opportunity to get college credit from BRCTC for attending one or all three segments of the Business Plan Series.
One of the most valuable methods of assistance to our Jefferson County businesses is the JCDA's Business Retention & Expansion program. Business Retention & Expansion (BRE) is an economic development strategy of proactively connecting with existing businesses to understand and respond to local business needs. Our goal is to build and foster long-term relationships with our businesses and connect them to resources that will help them remain efficient, competitive, and profitable.
"Small businesses are the lifeblood of our communities," says Eddie Love, owner and CEO of Mountain Mama Vacation Homes and a JCDA board member, "but they can't make it without our help! As a local small business owner, I've seen first-hand how much work it takes to start a business and keep it going. Every bit of support from the community goes a long way. I joined the JCDA to be part of the valuable work it is already doing to support local businesses, and I am excited about the new initiatives we have planned!"
So, what can you do to help a small business in our community? Make a habit of buying whatever you can from a small local business. When you get your morning cup of joe from Black Dog, Siblings or Joan + Joe, for example, a much greater share of the money you spend stays here in Jefferson County than when you buy from the international coffee chain. You could also share a story on social media about the local products or services you already know and love. Creating awareness about these small businesses helps to keep their employees' jobs secure, and drive growth that creates new opportunities. These small businesses support the local economy by not only creating jobs but also by fulfilling the demands of the people living in these towns. And remember, even a little goes a long way!
For more information, please visit https://jcda.net/and feel free to call our office at 304-728-3255 with any questions.
Home - Mountain Mama (mountainmamacabins.com)
Home | Sibling Coffee Roasters
Cold Brew Coffee + Curated Goods – Joan + Joe Coffee (joanandjoecoffee.com)