The Jefferson County Child Care Crisis
August 1, 2023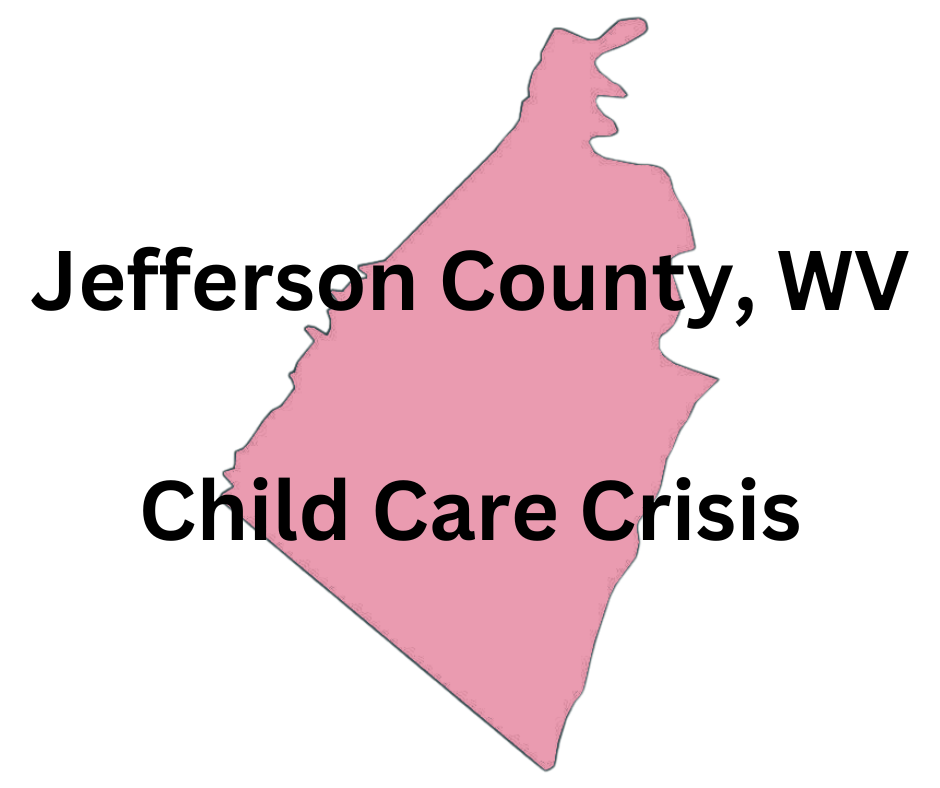 In Jefferson County, parents wait over a year before finding child care, a study conducted by the Jefferson County Development Authority (JCDA) found. When child care is not immediately available, parents place their name on a child care facility's "waitlist." Each facility maintains its own list. Parents are notified when a space "opens up." In Jefferson County, the average family waits 13.3 months between seeking care, moving up the waitlist, and finding a placement.
During discussions between businesses and the JCDA, access to child care is often cited as a significant hindrance to workforce recruiting, retention, and expansion. The JCDA conducted a study to quantify workforce child care needs.
In Jefferson County, there are 56 licensed facilities. The West Virginia Department of Health and Human Resources reports the total child care capacity is 1,079 in Jefferson County. This statistic is inclusive of children of all ages. Twenty-two of the 56 licensed facilities in Jefferson County responded to the JCDA survey. The JCDA conducted similar surveys with Berkeley and Frederick (MD) licensed facilities to understand the regional perspective of child care. The JCDA used the two-year-old age group as the control group when seeking to understand care options.
The most significant finding of this survey is parents wait an average wait of 13.3 months to find care in Jefferson County. Charles Town has the shortest average wait time in the County at 6 months. Shepherdstown locations averaged the longest wait times with an average of 24 months. Of the facilities surveyed, the average waitlist length is 29 families needing care in the County. Extrapolated across all 56 facilities, that's 1,624 families needing care.[1]
With an average wait time of 13.3 months, many families seek other child care options—including unlicensed care, traveling to surrounding counties, or one parent leaving/ not entering the workforce. In Berkeley County, the JCDA found the average wait time is 6 months while the average wait time in Frederick County (MD) is estimated at 3 months.
"Understanding the state of child care in Jefferson County is the first step in addressing how wait times for child care affect workforce recruitment, retention, and expansion," stated Edwina Benites-LM, executive director of the JCDA. "There are many issues affecting child care, and the JCDA will continue to work on this issue in the coming months."
---
[1] It should be noted that the number of waiting families is most likely smaller as parents tend to place themselves on multiple waitlists. Additionally, it should be noted that the number of children needing care is most likely significantly higher than the number of families on the waitlist as families often have multiple children needing care.