Position Announcement - Project Specialist
June 7, 2023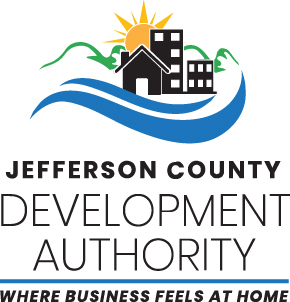 The JCDA Is hiring a Project Specialist. Please see below or Click Here to read the full Job Description.
Project Specialist, Grade 4
Jefferson County Development Authority

The Jefferson County Development Authority (JCDA) seeks a full-time project specialist to assist a
program manager and the director in implementing development initiatives. The current strategic goals
of the JCDA are:
1. Recruit new businesses to Jefferson County
2. Support the sustainability, growth, and expansion of existing businesses and industries in
Jefferson County.
3. Market and promote Jefferson County as a great place to do business.
4. Increase and diversify funding sources to support operations, programs, and future businessbuilding
initiatives.
5. Advocate for infrastructure resources, policies, and legislation directly impacting economic
expansion and business growth in Jefferson County.
6. Establish strong strategic partnerships with municipalities, economic development
organizations, community stakeholders, and regional and state partners to facilitate optimal
economic development planning and growth.
7. Strengthen organizational effectiveness through stronger governance.
The project specialists will play a key role in helping the JCDA toward accomplishing these goals.
Applicants should have a bachelor's degree or related work experience, knowledge of social media and
website management and the desire to learn more, a strong work ethic, and excellent verbal and
written communication skills. Applicants must be proficient in Microsoft Office and additional
programs.

Salary begins at $38,600. Employee benefits include West Virginia Public Employees Retirement System,
paid health insurance and sick leave, and at least 12 paid holidays per year.
Interested individuals should send a resume and cover letter via email by August 4, 2023, to:
Edwina Benites-LM, Executive Director
Jefferson County Development Authority
1948 Wiltshire Road, Suite #4
Kearneysville, WV 25430
ebenites@jcda.net
Equal Opportunity Employer