Pitch Competition Facilitates Business Start-Ups
May 26, 2023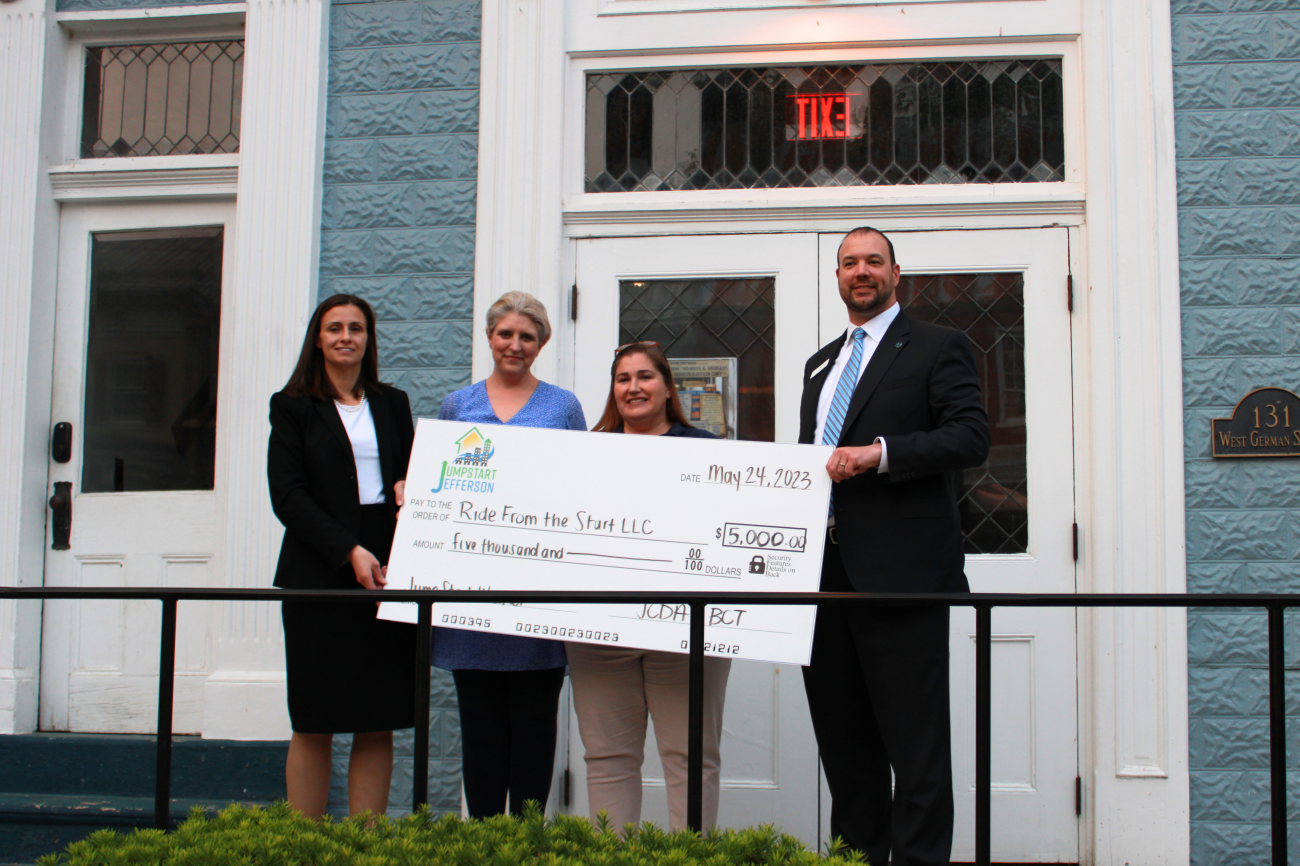 FOR IMMEDIATE RELEASE:
May 25, 2023
Pitch Competition Facilitates Business Start-Ups
Kearneysville, W.Va. – The Jefferson County Development Authority's (JCDA) Jump Start Jefferson initiative developed a new class of entrepreneurs in the Eastern Panhandle through a business pitch competition. The fifteen participants of the inaugural competition attended five weeks of educational courses where they learned the fundamentals of starting their own business from local industry experts before pitching their business plan to a panel of judges.
"These businesses are rockstars!" said Edwina Benites, Executive Director of the Jefferson County Development Authority. "Forbes reported that 20% of businesses fail in the first year and 50% fail by year five. These businesses, however, have the tools for success."
The JCDA brought in local business leaders to teach the participants how to successfully draft a business plan, start, and ultimately maintain their business. By establishing relationships with their peers and business leaders, the participants built an invaluable community of support.
The participants competed for the grand prize of a $5,000 grant award. In addition to winning the grant, the winner also received a professional branding video highlighting their business, courtesy of SC Studios, an advertisement package provided by the WV Independent Observer, and a one-year membership to the Jefferson County Chamber of Commerce.
All participants also received professional headshots from SC Studios, networking, and brand-building opportunities. After completing the five weeks of educational courses and the formal business pitch competition, participants were awarded 11 college credit hours through Blue Ridge Community and Technical College.
"We are exceptionally proud to help foster entrepreneurship within our community," said Benites. "Small businesses account for nearly 50% of all jobs in West Virginia so fostering the creation and growth of new employers is an essential part of economic development in Jefferson County."
Jump Start Jefferson saw a wide range of business concepts from its participants. The first business plan pitch was given by Kevin Ford, who created Blue Ridge Drone Imaging (BRDI). BRDI provides aerial photography and videography services, making a bird's eye view accessible to everyone. BRDI creates dynamic and cinematic views of your business, home, and events and was pitched to be a service to the local community, providing aerial imaging services at no cost to select community-focused and charity events.
Jennifer Gilmore and Amanda Livengood gave the next pitch for their ultimate sleepover and picnic experience, Slumberland Adventures. With an inventory of luxury tents and party rental equipment, Slumberland Adventures aims to help families plan unique experiences and unforgettable memories.
Next, Shelley Manley pitched Ride From the Start, an early childhood pony school for preschool-age children to learn to ride horses. Ride From the Start offers the first-of-its-kind curriculum curated to meet the needs of young riders and their instructors with specifically designed activities. Instructors around the country will be able to purchase the curriculum and will receive support in implementing, managing, and marketing the program.
The final pitch of the evening was delivered by Tyler Tummolo, who created a device called Automast, which automatically sets flagpoles at half-mast or full mast each day as directed. Tyler saw the necessity for such a device when he was managing the Clarion Inn Harpers Ferry and received poor reviews after unintentionally having the American flag at an incorrect height. The device uses existing technologies to automatically set flagpoles to the appropriate height for business owners.
"These four business owners are ready to step into the world of small business ownership and take on the next challenges," said Benites. "The Jefferson County Development Authority is proud to stand with our sponsors to bring these four businesses to the starting line and eleven other businesses miles closer to seeing their dreams become reality."
At the conclusion of the business pitch competition, Jump Start Jefferson gave out two awards – the business pitch competition winner and the People's Pick Contest. Tyler Tummolo and the Automast device were awarded the People's Pick Contest, which awarded him a $500 check courtesy of Black Diamond Realty.
After a deliberation period, the judges panel of local business leaders selected Shelley Manley and the Ride From the Start business pitch as the winner of the inaugural Jump Start Jefferson.
"I am extremely grateful to JCDA and Jump Start Jefferson," said Manley. "I have been working on this for a long time, I have had this dream for twelve years and this grant will help me make that dream a reality."
The Jefferson County Development Authority would like to congratulate Shelley Manley as well as the other participants for their hard work to make the inaugural Jump Start Jefferson a success.
###
The Jefferson County Development Authority was created in 1979 as a public agency of the Jefferson County Commission to advance the county's economic development. Since that time, it has worked to sustain and grow Jefferson County's strong economy and outstanding quality of life by providing leadership and resources for business creation, expansion, and retention.